Contents
Previous
Next
---
DEEP INFRARED MOSAICING SOFTWARE
Version : 2
Author(s) : Frank Valdes (fvaldes@noao.edu)
License : AURA
Website : http://iraf.noao.edu

Disk space required for installation is 1.30 Mb
Summary

The DIMSUM external package is used to produce accurate sky subtracted
images from dithered observations. The package was developed by P.
Eisenhardt (prme@kromos.jpl.nasa.gov), M. Dickinson (med@stsci.edu), S.
A. Standford, and J. Ward with assistance from F. Valdes
(fvaldes@noao.edu). This user-contributed package is distributed with
minimal documentation and support. Technical questions and suggestions
may be sent to the above authors.


Screenshots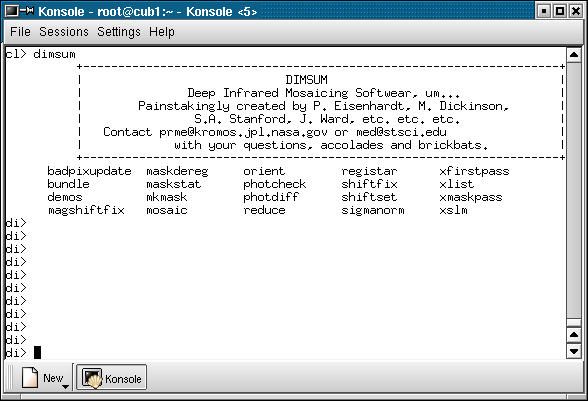 ---
Contents
Previous
Next