Contents
Previous
Next
---
A microwave anisotropy code
Version : 3.0
Author(s) : Uros Seljak (useljak@cfa.harvard.edu) , Matias Zaldarriaga (matiasz@arcturus.mit.edu)
License : cmbfast
Website : http://www.sns.ias.edu/~matiasz/CMBFAST/cmbfast.html

Disk space required for installation is 1021.00 Kb
After the package is installed it can be accessed using the command


		/opt/lfa/startcmbfast

     
Summary

CMBFAST is the most extensively used code for computing cosmic microwave background anisotropy, polarization and matter power spectra. This package contains cosmological
linear perturbation theory code to compute the evolution of various cosmological matter and radiation components, both today and at high redshift. The code has been tested over a wide range
of cosmological parameters. We are continuously testing and updating the code based on suggestions from the cosmological community.



Screenshots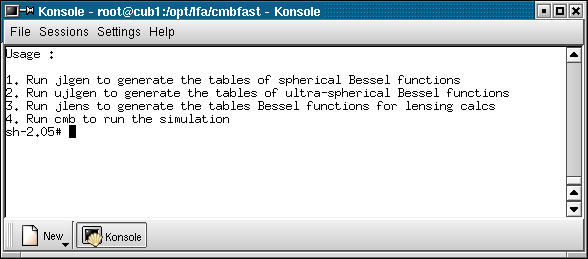 ---
Contents
Previous
Next