Contents
Previous
Next
---
A Database for Astrophysical Emission Line Spectroscopy
Version : 3.03
Author(s) : Enrico Landi (landi@poppeo.nrl.navy.mil)
License : Free
Website : http://www.damtp.cam.ac.uk/user/astro/chianti/chianti.html

Disk space required for installation is 10.48 Mb
After the package is installed it can be accessed using the command


		/opt/lfa/startCHIANTI

     
A shortcut will be installed in the KDE/GNOME desktop menu system,
as an entry in the Astronomy submenu
Summary

The continued development of the CHIANTI database is dependent on continued funding which is generally available if we can demonstrate that the CHIANTI
database is of use to astrophysical research. If you find CHIANTI useful, it would be helpful to us if you could email a short description (a single sentence is fine) of how
you employ CHIANTI.

We are also aware that CHIANTI data is being ingested into other databases and this is fine. However, it would be useful for us if some acknowledgement of this use of
CHIANTI can be given, such as in publications etc.




Screenshots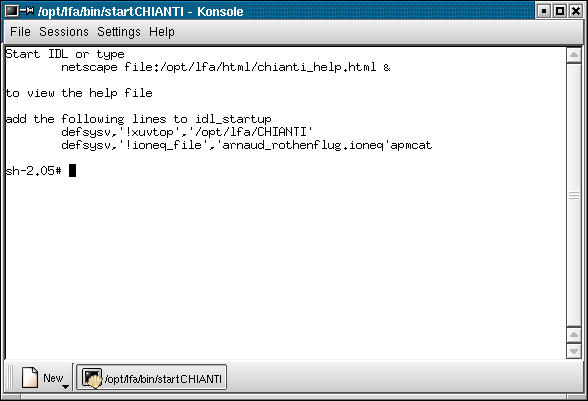 ---
Contents
Previous
Next